35. Black walnut
Juglans nigra
Please login to add favorites, build your passport and join the discussion.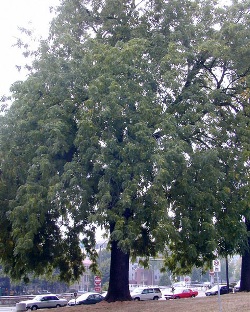 This tree is at Lincoln High School, on the corner of SW Salmon and SW 14th Ave. The tree was planted in the late 19th century on the Jacob Kamm estate, 13 acres bordered by SW Salmon, SW Jefferson, SW 14th and SW 18th. The Kamm house was moved in 1950*
Address: 1600 SW SALMON ST
Satellite 3D View | Street View | Canopy Analytics
On Satellite and Street View, hold Ctrl down and drag the mouse to change perspective.
GPS: 45.519023479759, -122.68757835765
Owner: Portland Public Schools
State ID: 1S1E04AB 100
Year Registered: 1994
Height: 95' | Spread: 93' | Diameter: 53" | Circumference: 13.9'
Nearby items