112. Lavalle hawthorn
Crataegus x lavallei
Please login to add favorites, build your passport and join the discussion.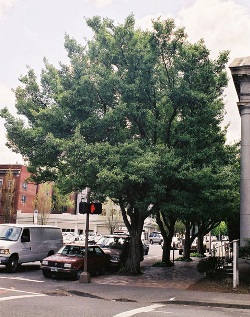 This tree is the southern most, one of 4 Heritage Hawthornes in front of the First Unitarian Church.
Address: 1011 SW 12th
Satellite 3D View | Street View | Canopy Analytics
On Satellite and Street View, hold Ctrl down and drag the mouse to change perspective.
GPS: 45.518302944497, -122.68548168679
Owner: Right Of Way
State ID: 1S1E04AA 3400
Year Registered: 1996
Height: 38' | Spread: 44' | Diameter: 22" | Circumference: 6.6'
Nearby items