1. American elm
Ulmus americana
Please login to add favorites, build your passport and join the discussion.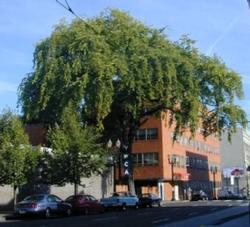 The first Heritage Tree. "This tree was brought to Portland, by ship, around Cape Horn at the tip of South America! It was planted here in 1870 by Martin S. and Rosa Frazar Burrell in their front yard. He was a partner in the largest seller of farm equipment, and she was a civic activist instrumental in founding the Unitarian Church. It is, to this day, known at The Burrell Elm, " Phyllis Reynolds via Trees of Greater Portland.
This tree was planted in front of the home of Martin and Rosetta Burrell in 1870 and is thus known as the 'Burrell Elm'.
Address: 1111 SW 10th AVE
Satellite 3D View | Street View | Canopy Analytics
On Satellite and Street View, hold Ctrl down and drag the mouse to change perspective.
GPS: 45.516729231203, -122.68401382307
Owner: Private
State ID: 1S1E04AA 6200
Year Registered: 1973
Height: 85' | Spread: 107' | Diameter: 46" | Circumference: 12.8'
Nearby items