2. London planetree
Platanus x acerifolia
Please login to add favorites, build your passport and join the discussion.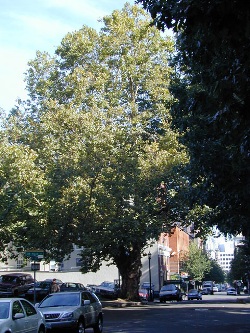 This tree was planted beside the Sylvester Farrell house in 1880.
Address: NW/C SW PARK & SW MAIN ST
Satellite 3D View | Street View | Canopy Analytics
On Satellite and Street View, hold Ctrl down and drag the mouse to change perspective.
GPS: 45.517166934527, -122.68257458389
Owner: Right Of Way
State ID: 1S1E04AA 2100
Year Registered: 1975
Height: 63' | Spread: 95' | Diameter: 53" | Circumference: 14.3'
Nearby items