295. Bigleaf maple
Acer macrophyllum
Please login to add favorites, build your passport and join the discussion.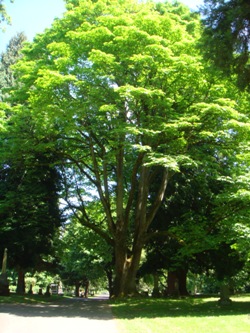 This tree is located inside the Cemetery, northeast of the old chapel on the main east/west paved path. This maple is known as the General Joseph Lane Tree. It was planted in commemoration of General Joseph Lane who came to Oregon on the Oregon Trail, *
Address: SE 20th & Morrison
Satellite 3D View | Street View | Canopy Analytics
On Satellite and Street View, hold Ctrl down and drag the mouse to change perspective.
GPS: 45.518084741204, -122.64199536696
Owner: Public (Metro)
State ID: 1S1E02 101
Year Registered: 2009
Height: 97' | Spread: 94' | Diameter: 56" | Circumference: 15.3'
Nearby items