293. Incense cedar
Calocedrus decurrens
Please login to add favorites, build your passport and join the discussion.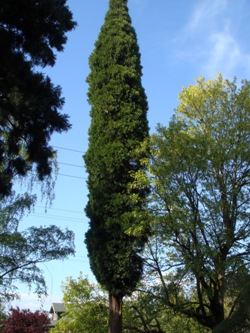 This tree is located inside Lone Fir Cemetery, on the north side of the Cemetery; opposite 2231 SE Stark St. This tree is distinctive for its well defined columnar form.
Address: SE 20th & Morrison
Satellite 3D View | Street View | Canopy Analytics
On Satellite and Street View, hold Ctrl down and drag the mouse to change perspective.
GPS: 45.519195023009, -122.64274596015
Owner: Public (Metro)
State ID: 1S1E02 101
Year Registered: 2009
Height: 121' | Spread: 13' | Diameter: 40" | Circumference: 11.1'
Nearby items