292. Dove Tree
Davidia involucrata
Please login to add favorites, build your passport and join the discussion.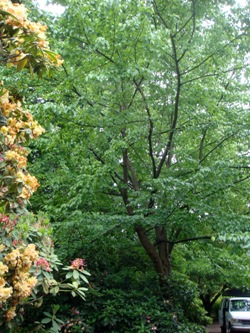 This tree was planted as a seedling in 1952 and is located within the Crystal Springs Rhododendron Garden (Fee Entry). It can be found at the south end of the Park, between the Pavillion and the Restrooms.
Address: 2425 S.E. Bybee St.
Satellite 3D View | Street View | Canopy Analytics
On Satellite and Street View, hold Ctrl down and drag the mouse to change perspective.
GPS: 45.479967632257, -122.63571411256
Owner: Public (Crystal Springs - Fee Entry)
State ID: 1S1E13 200
Year Registered: 2009
Height: 62' | Spread: 45' | Diameter: 18" | Circumference: 5.4'
Nearby items