132. Yellowwood
Cladrastis kentukea
Please login to add favorites, build your passport and join the discussion.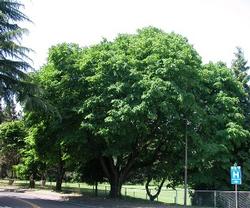 This tree is just south of the intersection of SE 28th & Woodstock Blvd, inside a fence on Eastmoreland Golf Course.
Address: 2425 SE BYBEE BLVD
Satellite 3D View | Street View | Canopy Analytics
On Satellite and Street View, hold Ctrl down and drag the mouse to change perspective.
GPS: 45.478672024441, -122.63469712868
Owner: Right Of Way
State ID: 1S1E13 200
Year Registered: 1997
Height: 69' | Spread: 63' | Diameter: 43" | Circumference: 13.2'
Nearby items