187. Ginkgo
Ginkgo biloba
Please login to add favorites, build your passport and join the discussion.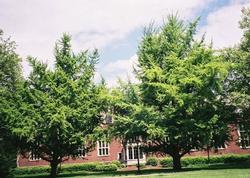 Southern of a pair of female Heritage Ginkos, 100 yards from Woodstock Blvd on the Reed campus main driveway.
Address: 3203 SE WOODSTOCK BLVD
Satellite 3D View | Street View | Canopy Analytics
On Satellite and Street View, hold Ctrl down and drag the mouse to change perspective.
GPS: 45.480296857015, -122.62916174572
Owner: Private (Reed Campus)
State ID: 1S1E13 100
Year Registered: 1998
Height: 89' | Spread: 57' | Diameter: 33" | Circumference: 10.8'
Nearby items