148. Douglas-fir
Pseudotsuga menziesii
Please login to add favorites, build your passport and join the discussion.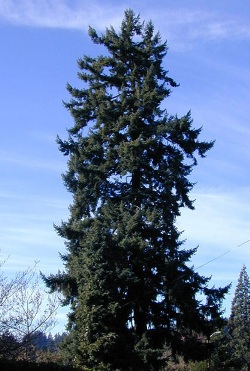 This tree is found at the southeast corner of this lot, near Buena Vista Dr.
Address: 2525 SW MONTGOMERY DR
Satellite 3D View | Street View | Canopy Analytics
On Satellite and Street View, hold Ctrl down and drag the mouse to change perspective.
GPS: 45.508328564041, -122.70571061967
Owner: Right of Way
State ID: 1S1E05DD 4200
Year Registered: 1997
Height: 133' | Spread: 62' | Diameter: 50" | Circumference: 14.2'
Nearby items