126. Weeping beech
Fagus sylvatica f. pendula
Please login to add favorites, build your passport and join the discussion.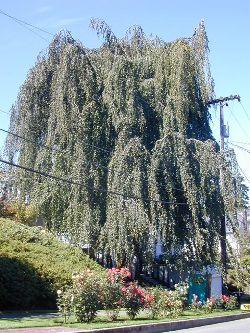 This tree is a variety of European Beech known as a Weeping Beech, Fagus sylvatica f. pendula. The tree is fully visible from the Elm St side of the lot.
Address: 2417 SW 16TH AVE
Satellite 3D View | Street View | Canopy Analytics
On Satellite and Street View, hold Ctrl down and drag the mouse to change perspective.
GPS: 45.508978193951, -122.69553981495
Owner: Private, Side Yard
State ID: 1S1E04CA 11400
Year Registered: 1997
Height: 55' | Spread: 70' | Diameter: 37" | Circumference: 10.6'
Nearby items