54. Copper beech
Fagus sylvatica f. purpurea
Please login to add favorites, build your passport and join the discussion.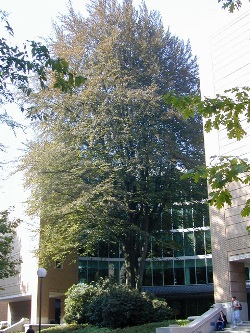 This tree is a variety of European Beech known as a Copper Beech, Fagus sylvatica f. purpurea. This tree is at the main entrance to PSU's Millar Library and was planted in the 1890s.
Address: 1875 SW PARK AVE
Satellite 3D View | Street View | Canopy Analytics
On Satellite and Street View, hold Ctrl down and drag the mouse to change perspective.
GPS: 45.511445440772, -122.68579050767
Owner: Public, PSU Campus
State ID: 1S1E04DA 6800
Year Registered: 1995
Height: 84' | Spread: 84' | Diameter: 62" | Circumference: 18.75'
Nearby items