46. Dutch elm
Ulmus x hollandica
Please login to add favorites, build your passport and join the discussion.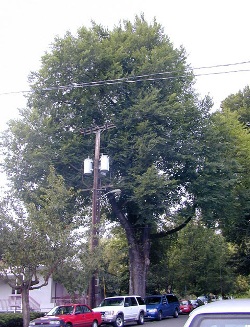 This tree was planted in the late 19th century. It was condemned to be cut down by the Portland City Council in 1963, but a devoted group of tree lovers saved its life.
Address: 2330 NW FLANDERS ST
Satellite 3D View | Street View | Canopy Analytics
On Satellite and Street View, hold Ctrl down and drag the mouse to change perspective.
GPS: 45.525444953446, -122.69946452371
Owner: Right Of Way
State ID: 1N1E33CB 3200 A1
Year Registered: 1995
Height: 80' | Spread: 75' | Diameter: 55" | Circumference: 15.1'
Nearby items