119. Dutch elm
Ulmus x hollandica
Please login to add favorites, build your passport and join the discussion.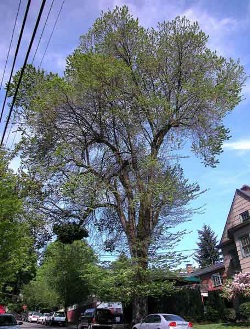 This tree has a large witches' broom, which can be caused by a virus, bacteria, or fungus.
Address: 2455 NW JOHNSON ST
Satellite 3D View | Street View | Canopy Analytics
On Satellite and Street View, hold Ctrl down and drag the mouse to change perspective.
GPS: 45.528356631284, -122.70190293488
Owner: Right Of Way
State ID: 1N1E33BC 15900
Year Registered: 1996
Height: 97' | Spread: 84' | Diameter: 51" | Circumference: 14.8'
Nearby items