3. Tulip tree
Liriodendron tulipifera
Please login to add favorites, build your passport and join the discussion.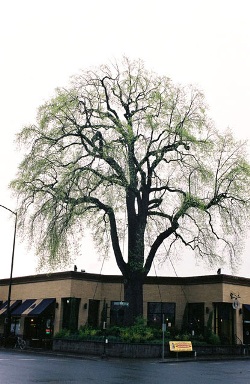 This tree is at the corner of NE 15th Ave and NE Weidler St, in an open patio area. It was planted near the George Nicolai home in the 1890s.
Address: 1403 NE WEIDLER ST
Satellite 3D View | Street View | Canopy Analytics
On Satellite and Street View, hold Ctrl down and drag the mouse to change perspective.
GPS: 45.534424992179, -122.65065871923
Owner: Private, Side Yard, Corner Lot
State ID: 1N1E26DC 13500
Year Registered: 1993
Height: 74' | Spread: 61' | Diameter: 58" | Circumference: 15.7'
Nearby items