89. Chestnut oak
*
Quercus prinus
Please login to add favorites, build your passport and join the discussion.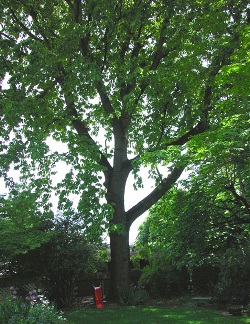 *Rare within Portland. See all trees rare for Portland.
This tree was planted as a seedling in 1904.
Address: 1927 NE TILLAMOOK ST
Satellite 3D View | Street View | Canopy Analytics
On Satellite and Street View, hold Ctrl down and drag the mouse to change perspective.
GPS: 45.537596797282, -122.64586718772
Owner: Private, Front Yard
State ID: 1N1E26DA 15800
Year Registered: 1996
Height: 90' | Spread: 99' | Diameter: 43" | Circumference: 12.82'
Nearby items