27. Oregon white oak
Quercus garryana
Please login to add favorites, build your passport and join the discussion.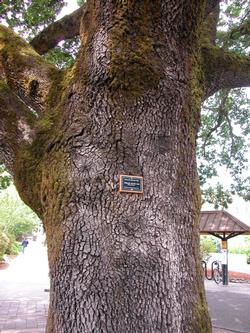 This tree is on the University of Portland campus; on the south side of Willamette, between N Haven & N Hodge.
Address: 5000 N WILLAMETTE BLVD
Satellite 3D View | Street View | Canopy Analytics
On Satellite and Street View, hold Ctrl down and drag the mouse to change perspective.
GPS: 45.57467032876, -122.72547432857
Owner: Private, University of Portl
State ID: 1N1E18A 100
Year Registered: 1994
Height: 72' | Spread: 96' | Diameter: 53" | Circumference: 14.75'
Nearby items