220. Endlicher pine
*
Pinus rudis
Please login to add favorites, build your passport and join the discussion.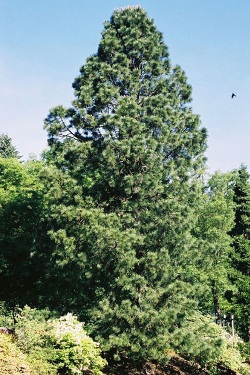 *Rare within Portland. See all trees rare for Portland.
This tree is on Rose Garden Way, next to the southeast corner parking lot. Since this tree is large and planted on city property, it is hypothesized that Ernie Fischer, once curator of Hoyt Arboretum, collected or acquired the seed from Mexico or Englan*
Address: 2403 SW JEFFERSON ST
Satellite 3D View | Street View | Canopy Analytics
On Satellite and Street View, hold Ctrl down and drag the mouse to change perspective.
GPS: 45.518577739084, -122.70583438053
Owner: Portland Parks & Recreation (Washington Park)
State ID: 1S1E05 100
Year Registered: 1999
Height: 60' | Spread: 37' | Diameter: 31" | Circumference: 8.1'
Nearby items