113. Deodar cedar
Cedrus deodara
Please login to add favorites, build your passport and join the discussion.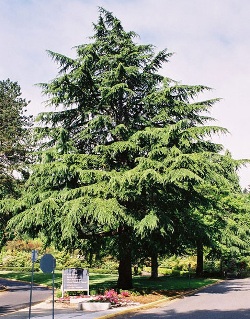 This tree is opposite this address, on a nib of land between SW Park Pl and Rose Garden Way.
Address: 2403 WI/ SW JEFFERSON ST
Satellite 3D View | Street View | Canopy Analytics
On Satellite and Street View, hold Ctrl down and drag the mouse to change perspective.
GPS: 45.521710633334, -122.7046388477
Owner: Right Of Way
State ID: 1N1E32 100
Year Registered: 1996
Height: 78' | Spread: 73' | Diameter: 47" | Circumference: 13.5'
Nearby items