134. Douglas-fir
Pseudotsuga menziesii
Please login to add favorites, build your passport and join the discussion.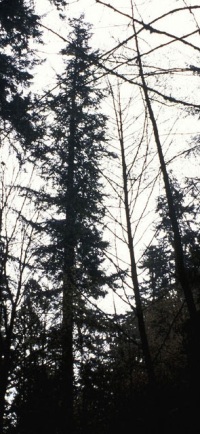 This tree is the largest Douglas-fir in Portland and can be found 100 yards from the stone house on the Lower Macleay spur trail along Balch Creek.
Address: NW CORNELL RD
Satellite 3D View | Street View | Canopy Analytics
On Satellite and Street View, hold Ctrl down and drag the mouse to change perspective.
GPS: 45.529083329681, -122.72335000048
Owner: Portland Parks & Recreation (Upper Macleay Park)
State ID: 1N1E32AC 3800
Year Registered: 1997
Height: 243' | Spread: 51' | Diameter: 66" | Circumference: 18.3'
Nearby items