106. Hedge maple
Acer campestre
Please login to add favorites, build your passport and join the discussion.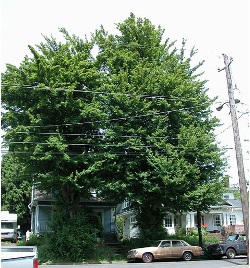 This tree is on the north side of the street, between NE 24th Ave and NE 26th Ave. Eastern tree of a pair.
Address: 2517 NE MULTNOMAH ST
Satellite 3D View | Street View | Canopy Analytics
On Satellite and Street View, hold Ctrl down and drag the mouse to change perspective.
GPS: 45.531485085201, -122.63984781996
Owner: Right Of Way
State ID: 1N1E36BB 11400
Year Registered: 1996
Height: 73' | Spread: 47' | Diameter: 37" | Circumference: 11.2'
Nearby items