83. Caucasian wingnut
*
Pterocarya fraxinifolia
Please login to add favorites, build your passport and join the discussion.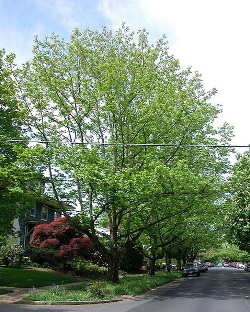 *Rare within Portland. See all trees rare for Portland.
This is one of a line 5 Heritage Wingnuts in front of the Church, along NE Knott St. They are numbered starting at NE 14th Ave, #80 being at 14th and #84 being at 15th.
Address: 2737 NE 15TH AVE
Satellite 3D View | Street View | Canopy Analytics
On Satellite and Street View, hold Ctrl down and drag the mouse to change perspective.
GPS: 45.542090188212, -122.65075763461
Owner: Right Of Way
State ID: 1N1E26AC 6900
Year Registered: 1996
Height: 35' | Spread: 45' | Diameter: 20" | Circumference: 6.28'
Nearby items