79. Canyon live oak
*
Quercus chrysolepis
Please login to add favorites, build your passport and join the discussion.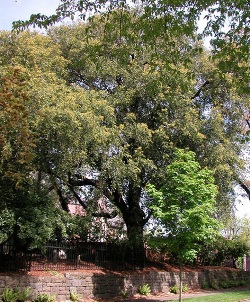 *Rare within Portland. See all trees rare for Portland.
This tree was brought from California on a flat-bed truck in the 1920s and planted by Thomas Autzen at his house.
Address: 2425 NE ALAMEDA ST
Satellite 3D View | Street View | Canopy Analytics
On Satellite and Street View, hold Ctrl down and drag the mouse to change perspective.
GPS: 45.55154327138, -122.64038340445
Owner: Private, Side Yard
State ID: 1N1E24CC 3700
Year Registered: 1996
Height: 60' | Spread: 95' | Diameter: 42" | Circumference: 11.1'
Nearby items