68. Japanese red pine
Pinus densiflora
Please login to add favorites, build your passport and join the discussion.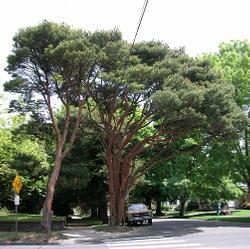 This tree is one of a pair of Heritage Pines at this location, and is found along NE Couch St.
Address: 110 NE 39TH AVE
Satellite 3D View | Street View | Canopy Analytics
On Satellite and Street View, hold Ctrl down and drag the mouse to change perspective.
GPS: 45.524363021313, -122.62290992235
Owner: Right Of Way
State ID: 1N1E36DA 5600
Year Registered: 1995
Height: 47' | Spread: 30' | Diameter: 24" | Circumference: 11.25'
Nearby items