5. Austrian pine
Pinus nigra
Please login to add favorites, build your passport and join the discussion.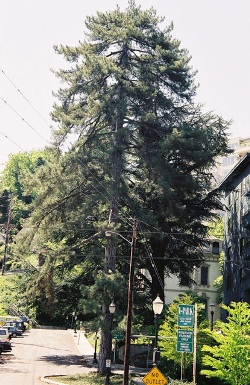 This tree is located in a built out planter at the intersection and is believed to have been planted sometime in the late 19th century by Henry Miller, one of Portland's first florists.
Address: COR JEFFERSON & SW 20TH
Satellite 3D View | Street View | Canopy Analytics
On Satellite and Street View, hold Ctrl down and drag the mouse to change perspective.
GPS: 45.5179803121, -122.69459534045
Owner: Right Of Way (Trimet)
State ID: 1S1E04BA 6800
Year Registered: 1993
Height: 107' | Spread: 55' | Diameter: 36" | Circumference: 10.2'
Nearby items