30. Tartan elm
*
Ulmus minor `Variegata'
Please login to add favorites, build your passport and join the discussion.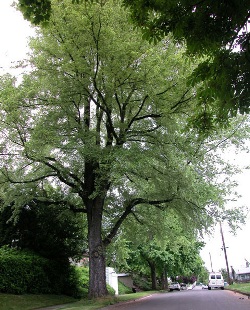 *Rare within Portland. See all trees rare for Portland.
This may be the only Tartan Elm in Portland and can be found along SE Grant St. at this address.
Address: 2120 SE 24TH AVE
Satellite 3D View | Street View | Canopy Analytics
On Satellite and Street View, hold Ctrl down and drag the mouse to change perspective.
GPS: 45.507077714462, -122.64062064377
Owner: Right Of Way
State ID: 1S1E01CC 13800
Year Registered: 1994
Height: 101' | Spread: 84' | Diameter: 44" | Circumference: 13.5'
Nearby items