291. Osmanthus
*
Osmanthus fragrans
This tree is no longer alive. Removed in 2018, cause not available.
Please login to add favorites, build your passport and join the discussion.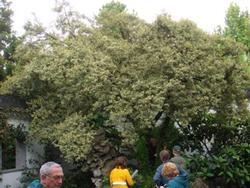 *Rare within Portland. See all trees rare for Portland.
In Portland Chinese Garden. A mature tree that was transplanted here from SE Portland
Address: 239 NW Everett St.
Satellite 3D View | Street View | Canopy Analytics
On Satellite and Street View, hold Ctrl down and drag the mouse to change perspective.
GPS: 45.525412539101, -122.67303708165
State ID: 1N1E34CA 3900
Year Registered: 2009
Height: 20' | Spread: 25' | Diameter: 18" | Circumference: 4.7'
Nearby items