279. Douglas-fir
Pseudotsuga menziesii
Please login to add favorites, build your passport and join the discussion.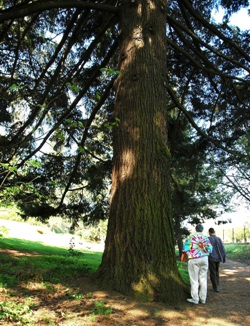 This tree is located along the fitness trail paralelling NE Halsey St, close to the intersection of NE Halsey and NE 146th Ave.
Address: 13931 NE GLISAN ST
Satellite 3D View | Street View | Canopy Analytics
On Satellite and Street View, hold Ctrl down and drag the mouse to change perspective.
GPS: 45.528605494261, -122.52194575869
Owner: Private
State ID: 1N2E35A   100
Year Registered: 2007
Height: 148' | Spread: 85' | Diameter: 61" | Circumference: 16.99'
Nearby items