235. Butternut
Juglans cinerea
Please login to add favorites, build your passport and join the discussion.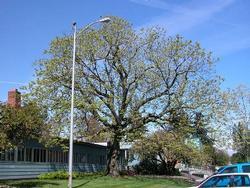 This tree is against the main building, next to the parking lot at the Charles Jordan Community Center.
Address: 9009 N FOSS AVE
Satellite 3D View | Street View | Canopy Analytics
On Satellite and Street View, hold Ctrl down and drag the mouse to change perspective.
GPS: 45.587514694999, -122.71072806338
Owner: Portland Parks & Recreation (University Park Community Center)
State ID: 1N1E08AC 100
Year Registered: 1999
Height: 65' | Spread: 82' | Diameter: 43" | Circumference: 13.5'
Nearby items