226. American sycamore
Platanus occidentalis
Please login to add favorites, build your passport and join the discussion.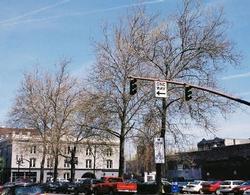 This tree is one of a row of Heritage Sycamores at the location, all adjacent to SW 2nd Ave.
Address: 230 SW 2ND AVE
Satellite 3D View | Street View | Canopy Analytics
On Satellite and Street View, hold Ctrl down and drag the mouse to change perspective.
GPS: 45.520812289145, -122.67288334407
Owner: Private
State ID: 1N1E34CD 3800
Year Registered: 1999
Height: 58' | Spread: 46' | Diameter: 23" | Circumference: 6.3'
Nearby items