207. Japanese pagoda tree
Styphnolobium japonica
Please login to add favorites, build your passport and join the discussion.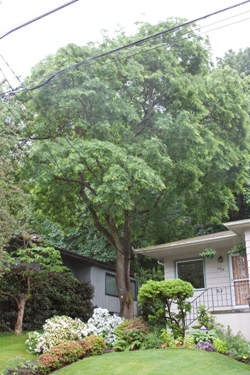 On April 12, 1973, a four-inch Sophora japonica seedling was given to Elaine Cogan (then the Chair of the Portland Development Commission) by Pat Nixon at the White House in recognition of the outstanding design of Pettygrove Park. According to Mrs Nixo*
Address: 6436 SE MORRISON ST
Satellite 3D View | Street View | Canopy Analytics
On Satellite and Street View, hold Ctrl down and drag the mouse to change perspective.
GPS: 45.517235106218, -122.59750447672
Owner: Private, Side Yard
State ID: 1S2E05BB 8300
Year Registered: 1999
Height: 77' | Spread: 54' | Diameter: 24" | Circumference: 8.7'
Nearby items