204. Gravenstein apple
Malus x domestica
Please login to add favorites, build your passport and join the discussion.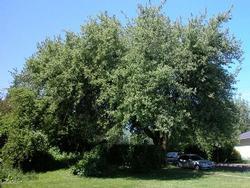 This tree is a Gravenstein Apple in the upaved part of SE Center St. It is possibly the last remaining tree of an extensive apple orchard planted by Gideon Tibbetts who came to Oregon in 1847 and died in 1887.
Address: 4017 SE 9TH AVE
Satellite 3D View | Street View | Canopy Analytics
On Satellite and Street View, hold Ctrl down and drag the mouse to change perspective.
GPS: 45.493715749498, -122.65648458247
Owner: Right Of Way (Center St)
State ID: 1S1E11CC 200
Year Registered: 1999
Height: 56' | Spread: 60' | Diameter: 42" | Circumference: 12.3'
Nearby items