197. Single-needle pinyon
*
Pinus monophylla
Please login to add favorites, build your passport and join the discussion.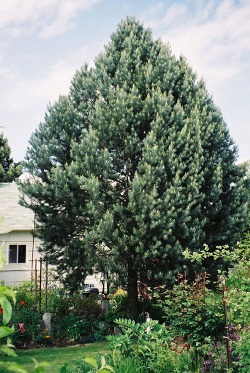 *Rare within Portland. See all trees rare for Portland.
This tree is set back from the street and not very visible.
Address: 5527 SE TOLMAN ST
Satellite 3D View | Street View | Canopy Analytics
On Satellite and Street View, hold Ctrl down and drag the mouse to change perspective.
GPS: 45.47778361115, -122.60617050956
Owner: Private, Front Yard
State ID: 1S2E18DC 7000
Year Registered: 1998
Height: 35' | Spread: 34' | Diameter: 11" | Circumference: 4.1'
Nearby items