194. Pecan
Carya illinoinensis
Please login to add favorites, build your passport and join the discussion.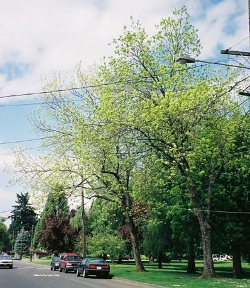 Southern tree in Woodstock Park, on the west side, along SE 47th Ave.
Address: SE STEELE & 47TH
Satellite 3D View | Street View | Canopy Analytics
On Satellite and Street View, hold Ctrl down and drag the mouse to change perspective.
GPS: 45.483861740822, -122.61431675918
Owner: Portland Parks & Recreation
State ID: 1S2E18BD 8700
Year Registered: 1998
Height: 66' | Spread: 61' | Diameter: 21" | Circumference: 6.04'
Nearby items