192. Zelkova
Zelkova serrata
Please login to add favorites, build your passport and join the discussion.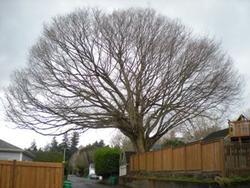 This tree is best viewed from SE Oak Ct.
Address: 4066 SE OAK ST
Satellite 3D View | Street View | Canopy Analytics
On Satellite and Street View, hold Ctrl down and drag the mouse to change perspective.
GPS: 45.519759945024, -122.62038080773
Owner: Private, Rear Yard
State ID: 1N1E36DD 10300
Year Registered: 1998
Height: 60' | Spread: 69' | Diameter: 41" | Circumference: 12.9'
Nearby items