15. American sycamore
Platanus occidentalis
Please login to add favorites, build your passport and join the discussion.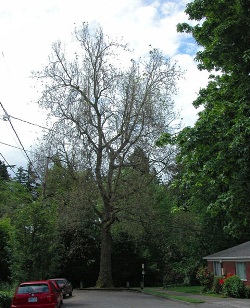 This tree is at the end of SE 33rd Pl, where it runs into Kenilworth Park.
Address: HOLGATE & SE 32ND AVE
Satellite 3D View | Street View | Canopy Analytics
On Satellite and Street View, hold Ctrl down and drag the mouse to change perspective.
GPS: 45.492138611066, -122.63076211973
Owner: Right Of Way, Unimproved
State ID: 1S1E12CD 11000
Year Registered: 1994
Height: 101' | Spread: 105' | Diameter: 55" | Circumference: 16.1'
Nearby items