146. Incense cedar
Calocedrus decurrens
Please login to add favorites, build your passport and join the discussion.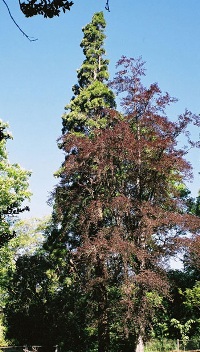 This tree is at the SW corner of the house.
Address: 4825 SW DOSCH PARK LN
Satellite 3D View | Street View | Canopy Analytics
On Satellite and Street View, hold Ctrl down and drag the mouse to change perspective.
GPS: 45.487430503642, -122.70714866053
Owner: Private, Front Yard
State ID: 1S1E17AA 7600
Year Registered: 1997
Height: 118' | Spread: 27' | Diameter: 37" | Circumference: 10.7'
Nearby items