14. Cucumber tree
*
Magnolia acuminata
Please login to add favorites, build your passport and join the discussion.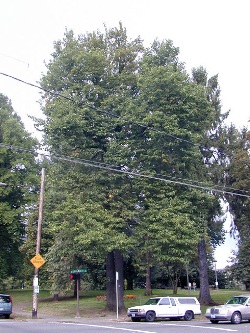 *Rare within Portland. See all trees rare for Portland.
This tree is in the southeast corner of Couch Park. It is perhaps the largest Cucumber Tree in the city. It was planted around 1900 on the estate of Cicero Horatius Lewis who owned the only house ever to be built on this block (in 1879-80). The house wa*
Address: 1961 NW GLISAN ST
Satellite 3D View | Street View | Canopy Analytics
On Satellite and Street View, hold Ctrl down and drag the mouse to change perspective.
GPS: 45.526893790302, -122.69141503007
Owner: Portland Parks & Recreation (Couch Park)
State ID: 1N1E33AC 8200
Year Registered: 1994
Height: 93' | Spread: 63' | Diameter: 44" | Circumference: 15.35'
Nearby items