12. American elm
Ulmus americana
This tree is no longer alive. Removed in 2018, cause not available.
Please login to add favorites, build your passport and join the discussion.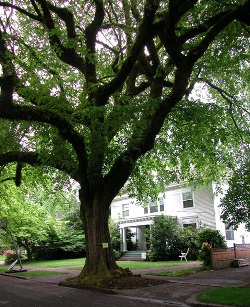 west side between SE Lambert St and SE Crystal Springs Blvd
Address: 7821 SE 30TH AVE
Satellite 3D View | Street View | Canopy Analytics
On Satellite and Street View, hold Ctrl down and drag the mouse to change perspective.
GPS: 45.46774451854, -122.63248830811
Owner: Right Of Way
State ID: 1S1E24CA 6000
Year Registered: 1994
Height: 60' | Spread: 114' | Diameter: 50" | Circumference: 13.2'
Nearby items